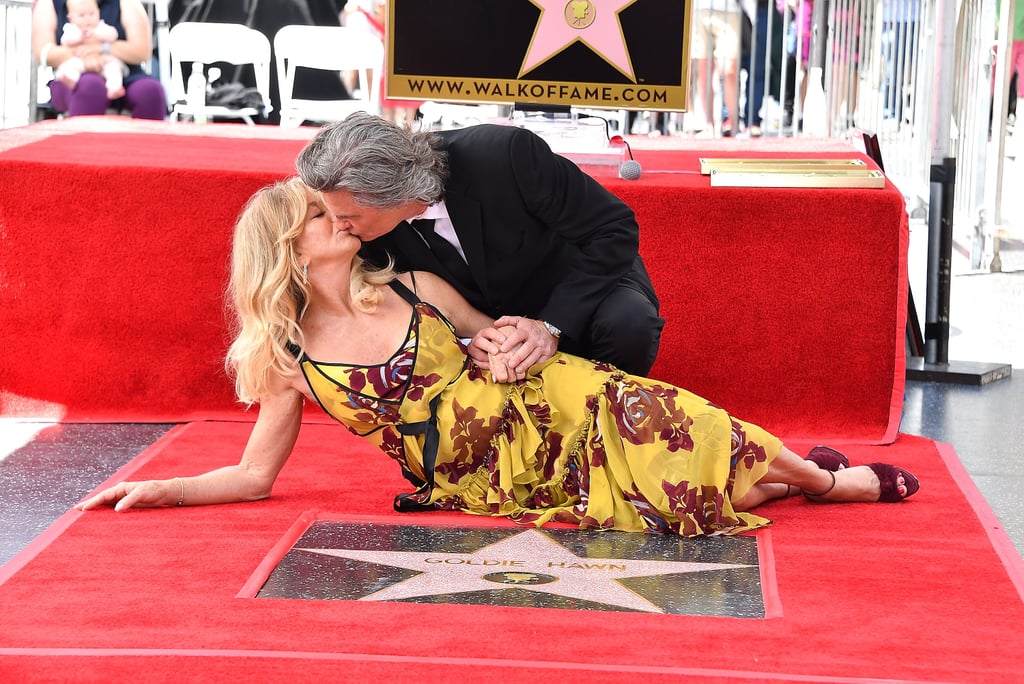 Hollywoodsterre word vereer met hulle eie ster op Hollywood Boulevard. Meer as 2600 sulke sterre is te sien oor 15 blokke van Hollywood Boulevard en Drie blokke van Vine Street in Hollywood, Kalifornië.
Twee sterre wie se liefdesverhaal vir my baie mooier is as enige fliek waarin hulle gespeel het, is Goldie Hawn en Kurt Russel. Al 34 jaar saam. Hy soos 'n eie pa vir Kate en Oliver Hudson, kinders uit Goldie se vorige huwelik. Hulle is ook nog nooit getroud nie.
Ek wil nie praat oor trou of saambly nie – elke diertjie sy plesiertjie is my filosofie. Almal maak eie keuses. As die bedjie brand, moet jy self die vure uitslaan.
Die mooi van hulle verhouding het geskitter by die onthulling van hulle sypaadjie-sterre.
Goldie Hawn het iets baie waar gesê. Dis pad na sulke erkenning is besaai met dinge waarop sy ja gesê het in haar soeke na die antwoord op die vrae:"Wie is Goldie. Wie is ek." Sy vertel dat sy in haar soeke op na die vraag, vir baie dinge ja moes sê, met ander woorde, besluite moes neem.
Sy het ja vir haar kinders se pa gesê, as sy nie het nie – was Kate Hudson nie. Sy het ja gesê met goeie en slegte gevolge. Maar met elke besluit, het sy gegroei en is sy gevorm, om diie enigste unieke Goldie te wees wat sy kan.
DIs so waar vir elkeen van ons. Ek sit hier en griffel en dink terug aan keuses in my eie lewe. Ek is so dankbaar dat ek selfs to ek vir die verkeerde redes ja gesê het, die fout my gevorm en geslyp het.
Hartkloppend bly oor my voorbaarigheid om my Rots destyds storm te loop en opdrag te gee om my op te pas. Dis al 33 jaar later,  hy koester my steeds. As hy darem nie ja gesê het nie…
Ag ek is vandag sommer soos 'n lekker Jansmutskoekie se lekkerte hier aan my binnekant. Die tweetjies laat my in liefde en respek en saamwees glo en is die helde van my liefdesdefinisie. Saamgesnoer, maar apart ook sterk.
"Who are you? You are made up of yesses in your life. My  yesses lead me to that star" – Goldie Hawn 2017